Racing Tempest sailboats is popular because it is both fun and challenging. It is definitely more fun when you do well. All sailors in the Long Beach Tempest fleet are encouraged to ask for help, or simply to ask questions whenever they want to improve their racing skills. The attitude in the Long Beach fleet is that we all win when everyone is sailing and racing well. If someone is struggling, they are encouraged to ask for help.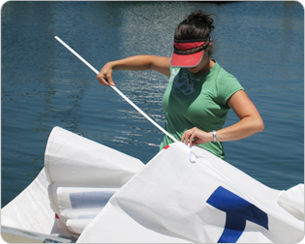 Having convinced you how critical boat speed is on the first leg of the race, it should be apparent that boat handling is also critical. How many times do you tack between the start and the weather mark? If you are losing speed on every tack, all your work on improving boat speed could be for naught. For this reason, you really need to practice your tacks with your regular crew. If you don't have a regular crew, consider becoming a nicer person to be with, or be more generous with the beer money after the race.
If you are a nice person and still can't find a regular crew, resolve yourself to sailing with people with whom you have not practiced. To make this as easy as possible, use colored control lines. In the middle of a jibe, telling your crew to "pull on the red line" may mean much more than "pull on the twing line." Here's a radical thought. If you do have trouble finding a steady crew, try crewing for a guest skipper. Because you are a skipper, you already know it is a lot easier to teach someone how to skipper a Tempest, than to crew on a Tempest.
How much thought do you put into placing your tacks? If you are sailing in relatively flat water, this may not be an issue, but if you are sailing in a chop, the last thing you want to do is tack right before you sail into a wave. The combination of losing speed during a tack and losing speed as the boat runs into a wave is going to kill your boat speed. The best time to tack is at the top of wave. As you go through the tack, you will be accelerating down the back face of the wave.
The next big factor in good boat speed is making your boat user-friendly. Do all of your fittings work? Is anything sticking or is it difficult to adjust? Your best friend is going to be a can of McLube lubricant. Even if every block on the boat is a ball-bearing block, they will run better with McLube One Drop lubricant. If you have a spinnaker launcher, spray the inside of the opening with McLube Sailkote. Lay the spinnaker on the lawn at home or at the yacht club and spray both sides with McLube Sailkote. For everything else on the boat, such as the traveler track and the inside of your windward-sheeting traveler car, spray it with McLube Sailkote. Finally, if a fitting is broken, replace it with one that works.
After everything is moving freely, check out your control lines and sheets. Are they easy to grip, and do they run freely through the blocks? If not, you may want to use softer line. As a good starting point, go with line constructed with a polyester core and a polyester cover. This line may stretch a bit more than the "high-tech" lines, but it is easy on the hands and runs freely, which is exactly what you need to promote good boat handling. For control lines, such as the Cunningham – which you use a lot – try using 5/16" line instead of 1/4" line. This will make it is easier to grip and pull, which also contributes to good boat handling.
If you want your wife or your girlfriend to sail with you, make sure that the boat is "female-friendly." Take a look at how much strength it takes to pull in the jib sheet, main sheet or spinnaker sheet. Even with a 6:1 mechanical advantage, pulling in the main in a stiff breeze can be a real challenge for a female skipper. Fortunately, Harken has a whole range of "coarse/fine tune" main-sheet systems that are readily adaptable to the Tempest. Tom O'Hara and Brigid Galford, a very successful male-crew, female-skipper combination have won a North American Championship using this set-up. Even in heavy air, Brigid had no trouble pulling in the mainsheet, using the fine-tune section of the Harken set-up.
Let me use this space for putting in a plug for copying the set up used by the guy that is beating you. There is an independent streak in every sailor. They just hate, absolutely hate copying anybody else's boat set-up. Break down, ask your competitor why he rigs his boat the way he does, and if it make sense to you, copy the idea.
Because the set-up in a boat can have such a dramatic effect on boat handling, USITA Long Beach has adopted a standard set-up for the core group of five boats which are chartered to people who are new to the class, or cannot afford to own their own boat.
Finally, take a day and practice boat handling. Go out and sail several upwind and downwind legs, tack your brains out, raise and lower the spinnaker a bunch of times, jibe downwind as much as possible and work out the best way to do everything smoothly and without a lot of communication. During a race, you don't have the time to sort things out, so go practice as much as possible. Ideally, boat handling should become second-nature to the skipper and crew. When this happens, your enjoyment of sailboat racing will go way up.